The Research Group 04 is organizing a workshop titled, "The Mutual Development and Friction between Water, Soil and Cities in Ancient West Asia and the Origin of Urban Mines" on Saturday, 3rd August from 12:30 to 17:40.
We look forward to your participation!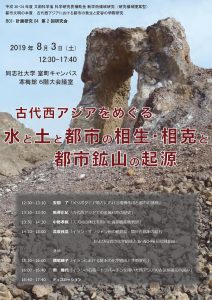 Date: 3rd August 2019 (Sat.), 12:30 – 17:40

Place: Doshisha University, Muromachi Campus, Kanbai-kan 6F conference room(Map)
Admission:free, no registration required.
<Programme>
12:30‒13:10
Ryo Amma 
 メソポタミア地方における堆積作用と都市の盛衰
13:10-13:50
Masanori Kurosawa
 古代西アジアでの金属利用の歴史
13:50-14:20
Takanori Nakano
 スズ同位体比を用いた青銅器産地判別
14:20-15:00
Yosihiro Asahara
 イラン・ザンジャン州の磁鉄鉱-燐灰石鉱床の鉱石および母岩の化学組成とSr-Nd-Fe 同位体組成
15:20-16:00
Yoriko Yokoo
 イランにおける降水の化学組成と季節変化
16:00-16:40
Masayo Minami
 イランの石筍・トラバーチンを用いた西アジアの古気候復元の試み
16:40-17:40
 Discussion