The following special lecture will be held at the Tokyo campus of University of Tsukuba, organised by the Research Group 01: Subsistence Economy and Social Structures in Prehistoric West Asia.
We look forward to your participation.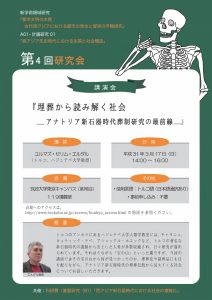 Speaker:Prof. Yılmaz Selim ERDAL (Hacettepe University, Turkey)
Title:「埋葬から読み解く社会 ーアナトリア新石器時代葬制研究の最前線ー」
エルダル教授が主任を務めるハジェテペ大学人類学教室には、チャヨニュ、キョルティック・テペ、アシュックル・ホユックなど、トルコの著名な新石器時代の遺跡から出土した人骨が多数収蔵され、日々研究が進められています。それはまさに「宝の山」といった趣ですが、今回の講演ではその宝の山から何が見つかったのか、埋葬方法や副葬品にも目を配りながら、アナトリア新石器時代の埋葬伝統から見えてくる社会についてお話しいただきます。
Date:17th March 2019 (Sun.), 14:00 – 16:00
Place:Room 119, University of Tsukuba, Tokyo Campus. (Map)
Admission:free; no registration required.
※Lecture will be conducted in Turkish with Japanese translation.
※Registration not required.