The Research Group 05  (Historical research on the urban structure of West Asian "Islamic cities") is organizing the following workshop.
We look forward to your participation!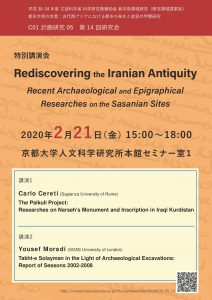 Date:21st Feb 2020 (Fri.), 15:00-18:00
Venue:Seminar Room 1, Main Building, Institute for Research in Humanities Kyoto University(Map)
Programme
Lecture 1:Carlo Cereti(Sapienza University of Rome)
"The Paikuli Project: Researches on Narseh's Monument and Inscription in Iraqi Kurdistan"
Lecture 2:Yousef Moradi (SOAS University of London)
"Takht-e Solayman in the Light of Archaeological Excavations: Report of Seasons 2002-2008"
※ Reservation not require; open to all.