The Research Group 02 is organizing a lecture titled, "Within and Without: Assyrian and Babylonian Conceptions of the World and the City" on Wednesday, 30th October.
We look forward to your participation!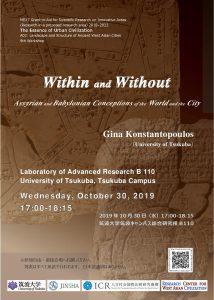 Time:30th Oct. 2019 (Wed.), 17:00 – 18:15
Place:B-110 Laboratory of Advanced Research, University of Tsukuba; (J-6 in the Map)
Lecturer:Gina Konstantopoulos(University of Tsukuba)
※ Participation is free; registration is not required.