Research Group 01 Subsistence Economy and Social Structures in Prehistoric West Asia and the Research Group 02 Urban landscape and functions of ancient West Asia will organize a workshop titled,「都市文明の本質を探る ー西アジアとその周縁ー」on Friday, 7th July from 13:00 to 17:30.
We look forward to your participation!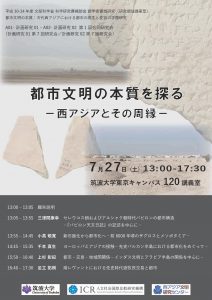 Date: 7th July 2019 (Fri.), 13:00 – 17:30
Place: University of Tsukuba,, Tokyo Campus. Room 120(Map)
Admission:free, no registration required.
<Programme>
13:00 – 13:05 Introduction
13:05 – 13:55
Yasuyuki Mitsuma(University of Tsukuba)
 セレウコス朝およびアルシャク朝時代バビロンの都市構造 ー『バビロン天文日誌』の記述を中心にー
13:55 – 14:45
Takahiro Odaka(University of Tokyo)
 新石器化から都市化へ ー前6000 年頃のザグロスとメソポタミアー
14:45 – 15:35
Masao Semmoto(University of Tsukuba)
 ヨーロッパとアジアの接触 ー先史バルカン半島における都市化をめぐってー
15:50 – 16:40
Akinori Uesugi(Kansai University)
 都市・交易・地域間関係 ーインダス文明とアラビア半島の関係を中心にー
16:40 – 17:30
Takuro Adachi(Kanazawa University)
 南レヴァントにおける先史時代遊牧民交易と都市 
※ The lecture will be conducted in Japanese